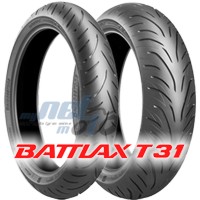 BRIDGESTONE T31 - remains in the second line - will be replaced step by step with the T32
Bridgestone has developed a new front-tyre compound for T31 with higher rubber flexibility. This enhances the bite "feel" in the wet, giving riders more confidence in tricky conditions. Providing higher camber thrust due to a bigger contact patch in all lean angles is bringing the fun factor on Sport Touring bikes to a new level as dry handling improved as well next to the bigger steps in the wet conditions.
You can buy / order now the BRIDGESTONE T31 online at gb.myNETmoto.com Shop. Promotional prices ✓
You will also find plenty of extensive experience ✓ Reviews ✓ Reviews ✓ Mileage ✓ Test ✓ to this motorcycle tyre.

If you search by motorcycle you can find pair deals, the recommended tyre pressure (bar/psi) and much more.
Technical Specifications:

Brand
BRIDGESTONE
Tyre Profile:
T31
Tyre Classification
Touring /
Tyre Size
Front Tyre: 110/70 ZR17, 110/80 R18, 110/80 ZR19, 120/60 ZR17, 120/70 R17, 120/70 ZR17, 120/70 ZR18, 120/70 ZR19
Rear Tyre: 140/70 R18, 150/70 ZR17, 160/60 R15, 160/60 ZR17, 160/60 ZR18, 160/70 ZR17, 170/60 ZR17, 180/55 ZR17, 190/50 ZR17, 190/55 ZR17
Carcass Type:
Tubeless / Radial /
Speedindex
H, V, W
Loadindex
54, 55, 58, 59, 60, 67, 69, 70, 72, 73, 75
Production Country
JP
05.03.2021
TOURING BIKE TIRE TEST - MAGAZINE MOTORRAD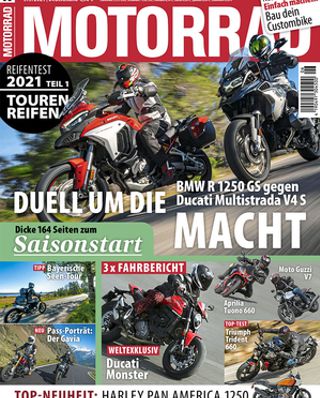 ---
Bridgestone has launched its new Battlax Sport Touring T32 tyre.The tyre represents improved wet performance over the T31, containing Bridgestone's Pulse Groove Pattern Technology. The T32 has a 13 per cent bigger contact patch than its predecessor, which supports handling improvements. The (...)
---
09.06.2019
Pirelli ANGEL GT II wins the Sport Touring tyre test organized by the authoritative Italian magazine Motociclismo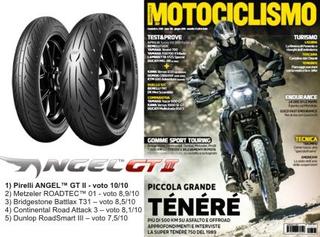 ---
29.04.2018
TOURING MOTORCYCLE TYRE TEST 2018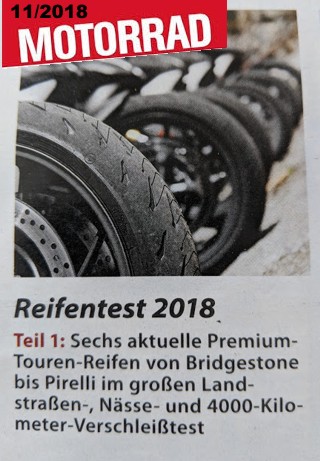 ---
BRIDGESTONE BATTLAX TOURING T31The New Battlax Sport Touring T31, where safety and performance meetIn addition to boosting stability and handling performance, Bridgestone has developed a new front-tyre compound for T31 with higher rubber flexibility. This enhances the bite "feel" in the (...)
---
25.10.2017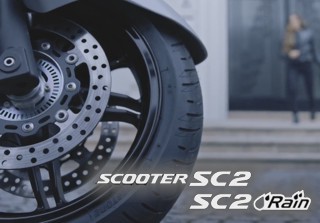 BRIDGESTONE SCOOTER SC2 / SC2 RAINBridgestone has applied the new Battlax Sport-Touring T31 wet technology to SC2 Rain, giving maxi scooter riders a safe, confident ride in changeable weather. Wet performance is enhanced by the higher void ratio in a tread design tuned to balance straight-line (...)
---
Price:
83.30

€
(incl. VAT exkl. Shipping)
Price:
94.96 €
(incl. VAT exkl. Shipping)
Price:
112.90 €
(incl. VAT exkl. Shipping)
Price:
106.14

€
(incl. VAT exkl. Shipping)
Price:
96.60 €
(incl. VAT exkl. Shipping)
Price:
99.66

€
(incl. VAT exkl. Shipping)
Price:
109.90 €
(incl. VAT exkl. Shipping)
Price:
111.86 €
(incl. VAT exkl. Shipping)
Price:
109.90 €
(incl. VAT exkl. Shipping)
Price:
121.38 €
(incl. VAT exkl. Shipping)
Price:
129.41

€
(incl. VAT exkl. Shipping)
Price:
126.90 €
(incl. VAT exkl. Shipping)
Price:
129.90 €
(incl. VAT exkl. Shipping)
Price:
126.90 €
(incl. VAT exkl. Shipping)
Price:
126.90 €
(incl. VAT exkl. Shipping)
Price:
129.46

€
(incl. VAT exkl. Shipping)
Price:
141.61 €
(incl. VAT exkl. Shipping)
Price:
145.91 €
(incl. VAT exkl. Shipping)