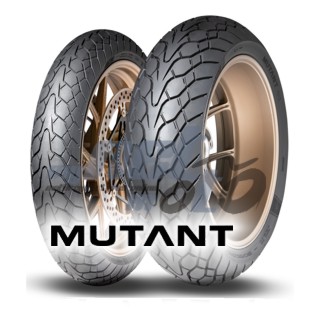 With the new DUNLOP MUTANT Dunlop introduces an extremely powerful and incredibly versatile high-performance tire.
The mutant follows a novel crossover approach and does not have much in common with the Supermoto tire Sportmax Mutant * introduced in 2006. By the beginning of 2020, the crossover tire will inspire riders of more than 370 motorcycles. The possible applications are as varied as the tire options.
Crossover concept offers top performance values in almost all weather conditions
Tire releases for a variety of motorcycles: travel enduro, naked bikes, scramblers, crossover bikes

---
The already available Sportmax Mutant is still in the product range with 3 sizes and bears in comparison to the new mutant the "Sportmax" in its product name. The Sportmax Mutant is in contrast to the new mutant primarily intended for use on Supermotos. He does not have the M + S ID.
For bigger supermoto bikes there is the Dunlop Sportmax Mutant, specially developed for the challenging demands of supermoto street bike riders. Its aggressive tread pattern, lightweight casings and optimised profiles give an instant handling response, which has been commended by European magazines. Rigorously tested, it also offers excellent grip, even in the worst riding conditions.
You can buy / order now the DUNLOP MUTANT online at gb.myNETmoto.com Shop. Promotional prices ✓
You will also find plenty of extensive experience ✓ Reviews ✓ Reviews ✓ Mileage ✓ Test ✓ to this motorcycle tyre.

If you search by motorcycle you can find pair deals, the recommended tyre pressure (bar/psi) and much more.
Technical Specifications:

Brand
DUNLOP
Tyre Profile:
MUTANT
Tyre Classification
Enduro / Supermoto / Touring / _ M&S /
Tyre Size
Front Tyre: 110/70 ZR17, 110/80 ZR18, 110/80 R19, 120/70 ZR17, 120/70 ZR19
Rear Tyre: 150/60 ZR17, 150/70 ZR17, 160/60 ZR17, 170/60 ZR17, 180/55 ZR17, 190/55 ZR17
Carcass Type:
Tubeless / Radial /
Speedindex
V, W
Loadindex
54, 58, 59, 60, 66, 69, 72, 73, 75
Production Country
FR
15.04.2023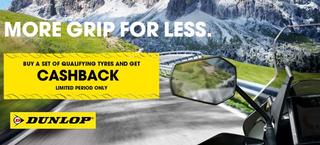 New season. New tyres. From road to trail, a new set of Dunlop tyres underneath you means all the confidence and grip you need to enjoy the thrill of the ride.And all with £40 cashback. Visit www.dunlop.eu to find out more.https://www.dunlopmotorewards.eu/#The promotion applies to the (...)
---
Dunlop has added two new rear tire sizes to the existing DUNLOP MUTANT tire sizes, so that 140 more motorcycle models can now be equipped with the world's first crossover tire. 2 new MUTANT rear tire sizes: 150/60 ZR17 and 160/60 ZR17 Tire approvals for more than 140 additional models Unique (...)
---
​... check this Link if there is a Dunlop motorcycle tyre promotion in your county this year !!dunlopmotorewards.eu/# (...)
---
From 2020, the Dunlop Sportsmart TT will also be available in the tire sizes for Adventure Motorcycles (BMW GS / KTM etc.)Dunlop Sportsmart TT TRAIL in 120/70 ZR19 and 170/60 ZR17.That's what Metzeler tried with the M7 RR this year. The tire was taken out of the program after a short (...)
---
10.06.2006
Dunlop Sportmax Mutant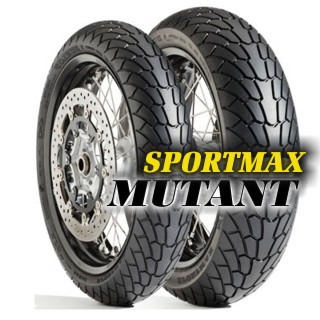 ---
Price:
122.69

€
(incl. VAT exkl. Shipping)
Price:
117.16

€
(incl. VAT exkl. Shipping)
Price:
133.76

€
(incl. VAT exkl. Shipping)
Price:
129.65

€
(incl. VAT exkl. Shipping)
Price:
135.90

€
(incl. VAT exkl. Shipping)
Price:
164.22

€
(incl. VAT exkl. Shipping)
Price:
152.65

€
(incl. VAT exkl. Shipping)
Price:
148.39

€
(incl. VAT exkl. Shipping)
Price:
148.28

€
(incl. VAT exkl. Shipping)
Price:
171.51

€
(incl. VAT exkl. Shipping)
Price:
179.63

€
(incl. VAT exkl. Shipping)