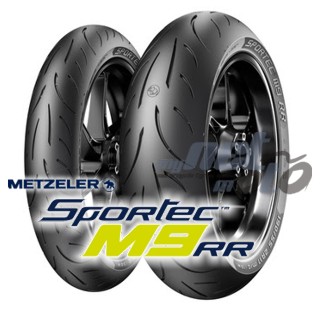 METZELER SPORTEC™ M9 RR – Ride the unexpected
SPORTEC M9 RR is without doubt the most keenly awaited release for all supersport riders who have had the chance to appreciate the already excellent experience offered by the SPORTEC™ M7 RR,with SPORTEC M9 RR bringing further performance improvements across the board. SPORTEC™ M9 RR, as you may guess from the name, has a strong connection to its predecessor and its roots. The name SPORTEC™ identifies the range of sports road tyres designed for day-to-day use and to guarantee a great riding experience, safety and versatility. RR stands for Road Racing and immediately brings to mind the iconic Isle of Man TT competition, won this year by champion Dean Harrison on METZELER tyres. Road racing competitions bring to mind not only performance but also the typical characteristics associated with use of road bikes, i.e. unpredictable weather and road-surface conditions. This is the concept behind the claim for the new product,"Ride the unexpected".
METZELER SPORTEC M9 RR integrates the versatility of everyday use with the Road Racing experience, building on the heritage of the gains and research and development learning winner SPORTEC M7 RR with the latest technic
SPORTEC™ M9 RR perfectly combines the typical versatility of day-to-day use with the brand's competitive experience in road racing, building on the important legacy of the SPORTEC™ M7 RR, a tyre that boasts an impressive list of awards and recognitions. This is completed with the most recent technological advances from the German brand's research and development activity.
One of the most pervasive innovations in motorcycle technology from introduction of the SPORTEC™ M7 RR has been the development of electronic rider-assist technology, supported by sophisticated sensors that offer riders greater security, regardless of the type of motorcycle. In this context, tyres play a fundamental role in allowing the electronics to interpret the true behaviour of the vehicle and calibrate it to offer the best riding experience and optimum performance. The biggest challenge for the METZELER Research and Development Centre was to adapt the dynamic performance of the SPORTEC™ M9 RR to a wide range of motorcycles, allowing electronic rider assistance systems to function properly.
SPORTEC™ M9 RR has been designed for motorcyclists, primarily owners of supersport and naked bikes, with a sporty driving style and who use their bikes almost every day and in all conditions, from the urban jungle to the winding weekend roads, and are looking for improved performance: riders who want a great driving experience and sporty performance even in wet conditions, primarily on the road but with the option to take their bike on the track as well. These riders need a sports tyre that provides precise and reliable feedback while they enjoy their bike's performance.
The full SPORTEC™ M9 RR range includes 3 front tyres sizes and 9 rear.
PRODUCT BENEFITS:
Outstanding handling due to innovative carcass structure
Impressive wet response due to 100% silica rate in all compounds
Plenty of Gip thanks to dual-compound for front and rear sizes
You can buy / order now the METZELER M9 RR online at gb.myNETmoto.com Shop. Promotional prices ✓
You will also find plenty of extensive experience ✓ Reviews ✓ Reviews ✓ Mileage ✓ Test ✓ to this motorcycle tyre.

If you search by motorcycle you can find pair deals, the recommended tyre pressure (bar/psi) and much more.
Technical Specifications:

Brand
METZELER
Tyre Profile:
M9 RR
Tyre Classification
Sport /
Tyre Size
Front Tyre: 110/70 ZR17, 110/80 R19, 120/70 ZR17, 120/70 R19
Rear Tyre: 140/70 R17, 150/60 R17, 150/60 ZR17, 150/70 R17, 160/60 ZR17, 170/60 R17, 180/55 ZR17, 180/60 ZR17, 190/50 ZR17, 190/55 ZR17, 200/55 ZR17
Carcass Type:
Tubeless / Radial /
Speedindex
H, V, W
Loadindex
54, 58, 59, 60, 66, 69, 72, 73, 75, 78
Production Country
CN, DE, IN
28.02.2022
Sport Motorcycle tyre test 2022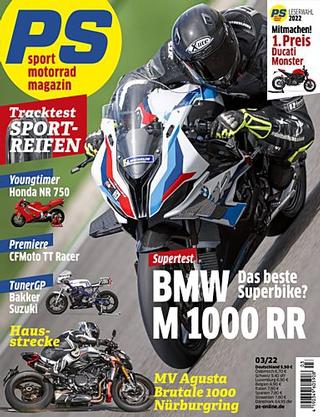 ---
18.03.2021
Motorcycle tire test from the magazines PS - sport tires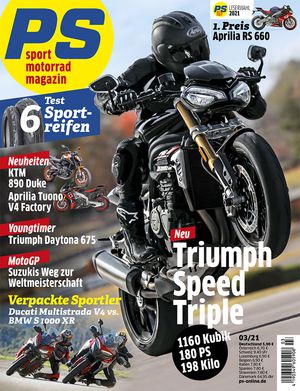 ---
In MOTORRAD (issue 07/2023), sport and sport-touring motorbike tyres were tested on the KTM 390 DUKE in the dimensions 110/70 R17 and 150/60 R17.Three manufacturers received the test rating "very good" BRIDGESTONE S22, METZELER M9 RR, MICHELIN ROAD 6One manufacturer received a (...)
---
15.03.2023
2023 Metzeler Promotionhttps://promo.metzeler.com/tyres/en-GB/Q2promo/overview (...)
---
The new sizes of the METZELER SPORTEC M9 RR range dedicated to adventure segment motorcycles will be available from December.Launched in 2020, the SPORTEC M9 RR is a Supersport tire designed for sporty bikers who use their motorcycles in all weathers. Initially intended for Supersports, Naked and (...)
---
07.05.2021
The METZELER DAY 2021 season is starting in Italy: registrations are open for the Vallelunga stage through the new e-commerce site dedicated to METZELER events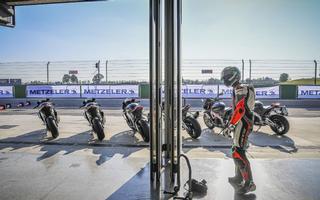 ---
Price:
114.53

€
(incl. VAT exkl. Shipping)
Price:
106.72

€
(incl. VAT exkl. Shipping)
Price:
103.53

€
(incl. VAT exkl. Shipping)

Out of stock.
Already ordered. No delivery date.

Out of stock.
Already ordered. No delivery date.
Price:
127.03

€
(incl. VAT exkl. Shipping)
Price:
128.14

€
(incl. VAT exkl. Shipping)
Price:
133.27

€
(incl. VAT exkl. Shipping)
Price:
142.15

€
(incl. VAT exkl. Shipping)
Price:
122.94

€
(incl. VAT exkl. Shipping)
Price:
126.90 €
(incl. VAT exkl. Shipping)

Out of stock.
Already ordered. No delivery date.

Out of stock.
Already ordered. No delivery date.
Price:
152.92

€
(incl. VAT exkl. Shipping)
Price:
165.05

€
(incl. VAT exkl. Shipping)
Price:
164.22

€
(incl. VAT exkl. Shipping)
Price:
164.64

€
(incl. VAT exkl. Shipping)
Price:
177.01

€
(incl. VAT exkl. Shipping)
Price:
168.26

€
(incl. VAT exkl. Shipping)
Price:
179.63

€
(incl. VAT exkl. Shipping)