Technical Specifications
Front Tyre
110/80 R19 59V
tyre pressure
2.20 bar
Rim
2.50 x 19 / Alloy
Rear Tyre
140/80 R17 65V
tyre pressure
2.50 bar
Rim
3.50 x 17 / Alloy
Buy recommended motorcycle tyres for your BMW F 700 GS [E8GS]. Daily promotions, great discounts, pair deals only online on myNETmoto.com
Find the recommended OE (Original Tyre Equipment) or replacement motorcycle tyres, and the optimal tyre pressure for your bike in our database !! On the road, it's essential to use the tyre pressures recommended by the manufacturer of your motorbike or the tyre producer.
You'll find it in the bike's handbook, or on the machine itself. The inflation pressure stated in these documents is the pressure when the tyres are cold.
1 bar = 14,5038 psi

The information provided in this page is for your information only. You fully discharge myNETmoto from any liability whatsoever in relation to, or as a consequence of, claims by yourselves and/or any third party for possible damages subsequent to the fitting of tyres not allowed.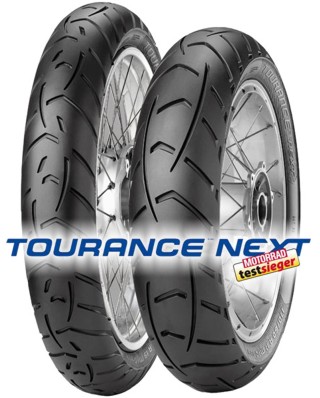 The Tourance NEXT. The Enduro street tyre that dares you to challenge any weather condition and any road The latest generation of Enduro Street tyres, featuring new compounds, profiles, structure and tread pattern for unmatched levels of stability, [...]
(incl. VAT exkl. Shipping)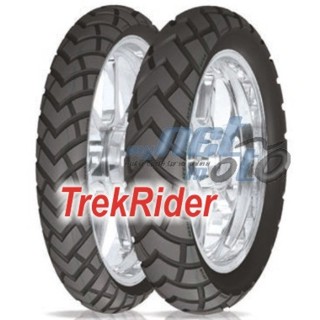 Avon TrekRider - is Avon's first adventure tyre that offers a 50/50 split of on road versus off-road performance. Designed for light to medium trails, the tyre works as well in mud and gravel as it does on asphalt. This new [...]
(incl. VAT exkl. Shipping)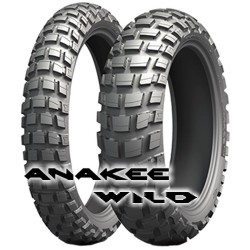 Anakee Wild - Michelin will introduce an off-road version of the new tire that is highly stylized in terms of both design and performance. Already certified by BMW, this radial tire targets riders who love to take their bikes out on the trail. The [...]
(incl. VAT exkl. Shipping)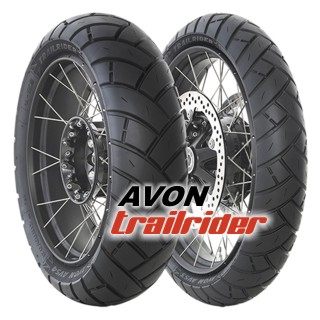 Avon TrailRider boasting a stiffer construction for improvements in handling, rubber compounds have also been advanced to increase performance in the wet, with a dual compound tread for mileage in the centre, and grip on the edges. [...]
(incl. VAT exkl. Shipping)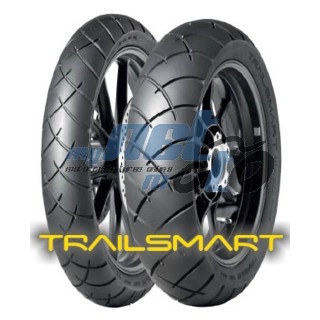 The dual-purpose, high-performance, adventure-touring Dunlop TrailSmart is for riders who like to push the limits of discovery beyond the typical boundaries of the open road.• Silica-fortified tread compound for enhanced traction and grip in wet [...]
(incl. VAT exkl. Shipping)
Pirelli Scorpion Trail II - specially designed for the lastest generation adventure touring and enduro street motorcycles. It features key points of excellence; high mileage, consistency of performance for it's entire tyre life and top notch [...]
(incl. VAT exkl. Shipping)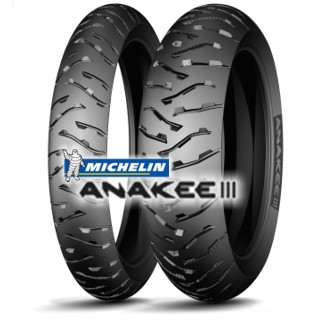 Anakee 3 - a more rigid tyre carcass and a new profile inspired by Michelin's Sport Touring radial tyres for better stability and handling.Variable tread depth to suit different road conditions and lean angles for great grip on wet surfaces [...]
(incl. VAT exkl. Shipping)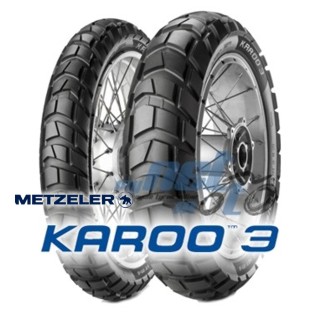 The Karoo 3 is ideal for modern, large and medium capacity bikes which have to travel on both Tarmac and off road, like the latest addition to the BMW family, the new water-cooled R1200GS, which can be equipped with Karoo 3sThe new tyre is highly [...]
(incl. VAT exkl. Shipping)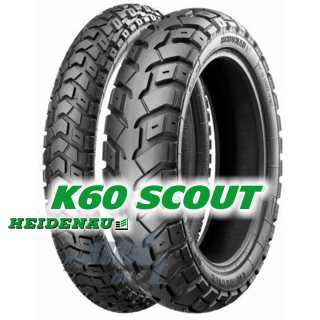 Allround Enduro tyre, which in terms of wet grip and curve stability a further improvement of the driving characteristics compared to the predecessor K60. due to the high negative proportion in the profile sufficient traction in the terrain. Due to a [...]
(incl. VAT exkl. Shipping)
Some of the following pairs are possible, but maybe not explicit recommended by the motorcycle manufacturer for this motorcycle.
It is your own responsibility if you choose one of the following tyre fitting!
(incl. VAT exkl. Shipping)
(incl. VAT exkl. Shipping)