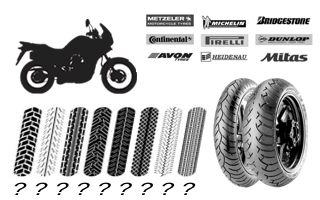 Find the recommended motorcycle tyres and tire pressure for your bike in our database !! For use on the road, it's essential to use the tyre pressures recommended by the manufacturer of your motorbike.
You'll find it in the bike's handbook or on the machine itself. The inflation pressure stated in these documents is the pressure when the tyres are cold.

The information provided in this page is for your information only. You fully discharge myNETmoto from any liability whatsoever in relation to, or as a consequence of, claims by yourselves and/or any third party for possible damages subsequent to the fitting of tyres not allowed.
CONTINENTAL CONTI GO!


The new ContiGo is designed to the same exacting standards as Continental's range of tyres for larger capacity machines, providing the discerning commuter with the same ride quality, stability and confidence. The ContiGo is designed to give [...]
(incl. VAT exkl. Shipping)
BRIDGESTONE BT 45


This all-round sports bias tyre is for imported and re-imported bikes and offers the same basic performance as the BT-45. Ideal for the rider who seeks overall high-speed performance.
(incl. VAT exkl. Shipping)
PIRELLI MT 66